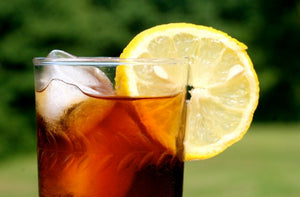 Southern Sweet Tea
Description: Nothing like sitting back relaxing on the porch with a cold fresh brewed tea sweetened with pure sugar.  Enjoy this true to life smell of sweet iced tea on a warm summer day.  
Flash Point: 200F
Skin Safe: Yes
Candle Safe: Yes
Vanillin:  None
Vegan: Yes
Animal Cruelty Free: Yes
Phthalates:  None
CP Soap: Not Tested
MP Soap: Not Tested
Polar: 
Origin: USA
Color Suggestions: Golden Brown/Brown

MSDS Available:  YES
IFRA Deodorant:  2.2%
IFRA Body Cream, Lotion, Oil: 11.11%
IFRA Foot Products: 11.11%
IFRA Powders and Talcs: 11.11%
IFRA Soap: 11.11%
IFRA Shampoo/Conditioners: 11.11%
IFRA Face Cleansers: 11.11%
IFRA Shaving Cream: 11.11%
IFRA Body Wash: 2.5%
IFRA Aerosols: 11.11%
IFRA Laundry Detergent: 11.11%
IFRA All Non Skin Contact: 100%
IFRA Potpourri: 100%
Sweet Tea
INGREDIENTS
8

 

regular black tea bags

3/4 - 1

 

cup

 

granulated sugar

 

to your sweetness preference

2

 

large lemons

water

ice
INSTRUCTIONS
Tie the strings of 8 tea bags together in a knot.

In a small saucepan combine sugar and 2 cups of water over high heat. Bring to a boil. Add tea bags. Immediately turn off heat. Let sit and steep for about 2 hours.

In a

 gallon pitcher

 

add steeped tea. Wring out tea bags and add to the pitcher as well. Add 3 cups ice. Fill to gallon line with water. Store in refrigerator for up to 1 week.

For individual glasses, add a slice of fresh lemon and pour over with iced tea. Enjoy!
RECIPE NOTES
If you don't want to wait for the 2 hours just wait about 15 minutes until it's not boiling hot any longer. Add tea to a large pitcher with extra ice to help cool it down quicker. Total ice and water should not exceed 1 gallon or it will have a watered out taste.
Author Melanie - Gather for Bread